LESS IS MORE IN LANDSCAPE LIGHTING
The concept of "less is more" has gained popularity in various aspects of design and architecture, and landscape lighting is no exception. By using fewer lights and focusing on key features, the natural beauty of the landscape is highlighted and not overpowered. Our focus for Bayou Bend Towers' was to increase visual safety and security while maintaining the aesthetic of their private park. Our solution for the 42-year-old condominium's greenspace was a curated design of selectively installing moonlights, step lights, upgrading existing pole lighting, and 16 custom- fabricated, solid brass bollards.
"My favorite element of this project was developing the custom 36" bollard lights. These lights will handle the environment while producing a wider spread of light than one would have with a traditional path light," said Bryan Daniel, Director of Stirling Electric & Irrigation.
Read the benefits of the "less is more" approach at Bayou Bend Towers.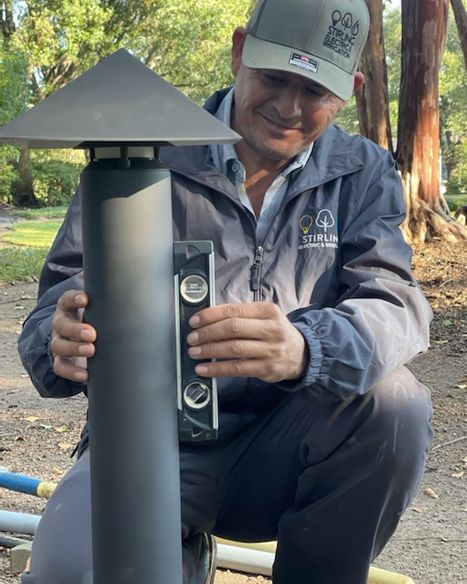 Improved Safety
A well-lit landscape is safer, but too much light can create glare and make it difficult to see obstacles. The "less is more" approach ensures a well-lit and safe environment without creating a lot of glare.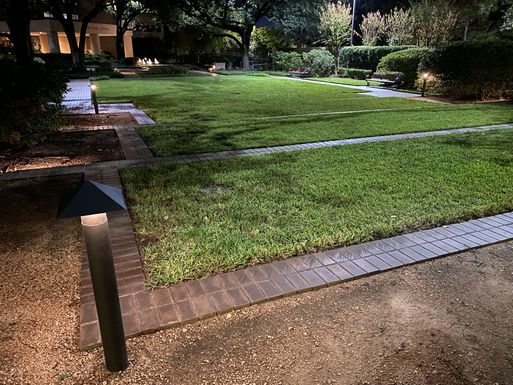 Aesthetically Pleasing
A well-designed lighting scheme that uses fewer lights creates a calming, relaxing atmosphere and enhances the overall look and feel of the landscape.